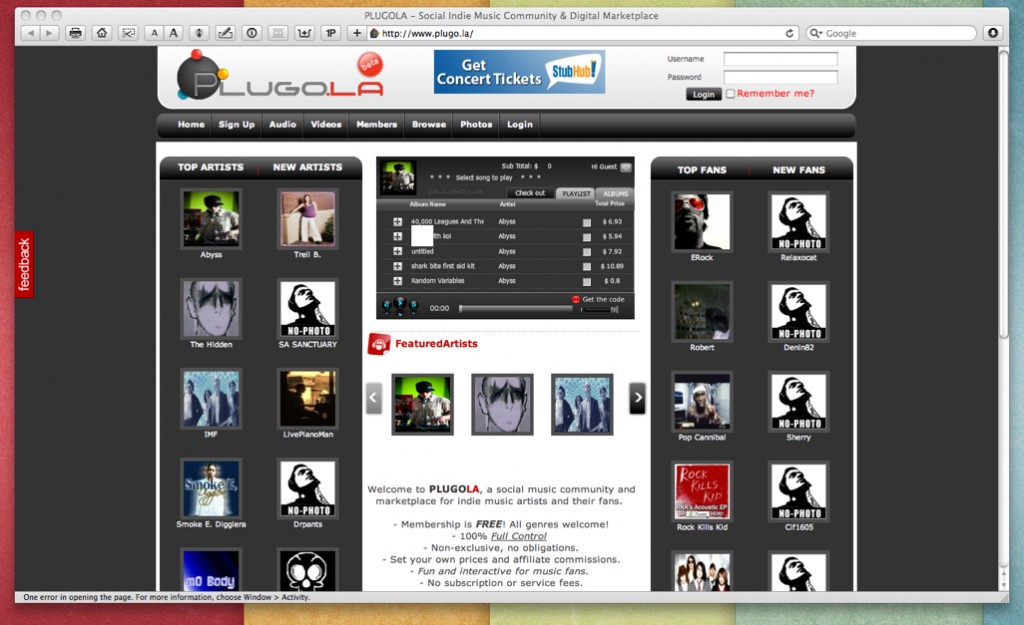 I did an interview with Plugo.la front man, founder, president Erik Peterson. For those of you that don't know about Plugo.la (pronounced Plugola), Plugo.la is a social music community and marketplace for indie music artists and their fans.
I love Twitter. Reason? Because, that's where I found this brilliant resource for you all.
This interview is pretty long, so what i'm going to do is split it into 2 sections. You'll get the first part today and the next and final part tomorrow.
So, without further ado, let's get on with the show…
Can you tell us a little bit about what you do?
My name is Erik Peterson and I'm the founder of Plugo.la (Plugola); a social platform and music community where independent musicians can promote, distribute, share and/or sell their music and videos; and music fans can be part of the fun and even earn a commission for participating.
How did you get started?
I got my start playing in bands back in the late 80's thru the 90's; first as a guitarist, then switching permanently to drums. In the early 90's, after getting fed-up with the politics involved with being signed to a label, I began my own. It was fairly short-lived, mainly because I had no idea what i was doing. I learned a lot from my mistakes in that venture, though. Unfortunately, a major change in my life led me away from the music industry for a few years. Not long after, I began marketing online as a full-time profession.
I attended this big reunion/anniversary show with a line-up of bands I grew up with and played with when I was part of the scene. After hearing all the live music and seeing everyone again just reminded me how much I loved that lifestyle. The next day I was searching for a way to become involved with the new generation of music. I eventually started a video/mp3 sharing site for indie music, modeled after YouTube, called; Jamphetamines. This helped me see what musicians needed and wanted to promote themselves, and what music fans wanted in order to stay at the site longer than a few seconds. During this time I took all the knowledge I gained about digital marketing, social media, SEO and the record business and began developing Plugola.
How should our listeners gauge if Plugo.la, is right for them?
People should know that Plugola was developed to help musicians sell their music and videos. It's not just another site for artists to add their profile, upload a few songs for free download, link to their myspace profile and leave it. It was designed to give the artist (and music fan) options and to continue the trend of sharing music/videos, but in a more controlled environment. We also incorporated incentives and tools so both artists and fans can get the most out of using Plugola. Our focus isn't only musicians, but music fans, too.
How long did it take you to get you to where you are now, and what would you say to our listeners who are already tired and frustrated?
It took way longer than I ever anticipated and I still have quite a way to go. I'm not trying to discourage anyone. I'm just saying it has taken a lot of work, persistence and patience; just as it would for most. Hang in there! Nothing worthwhile is built overnight. Use that frustration to fuel the fire to keep going. You may need to change things up a bit. It is said that the key to great writing is rewriting. Perhaps there are some areas that could use some tweeking.
What information do you plan to pass on to our listeners today? Please just give us a quick walkthrough.
I will be giving a basic overview of what independent musicians should be doing online to successfully market their music.
What are the top 5 areas should an indie concentrate on when promoting/marketing music? Could you give us a step-by-step breakdown?
Since my focus is really online and digital content, I can really only give it to you from that point of view. (in no particular order)
Engage Your Fans: This is increasingly becoming an extremely important part of marketing your music/brand on the web. Yes, your music is important, but your fans also want to know about you, what goes on behind the scenes and how you create such an incredible sound. You can keep your fans updated all the time and for free by using web tools and the fans are expecting it more and more these days. Some of them even want to help you and just be part of what you're all about. Give them easy ways to spread the word and your music.
Stick to your niche/genre only: It's natural for musicians, or anyone really, to want mass appeal. But with so many options available these days, targeting just your niche will help you develop true fans much easier. True fans are the ones who will talk about you, buy your merch/music and come to your shows. If you're destined for mass appeal, these will be the people who bring you there.
Good Design/Layout: I know there's a lot of cool technology out there (mainly Flash) to make a web site look really slick. As great as they look, they're not very effective in terms of marketing and/or branding. For one, it's important for your fans to be able to find you in the search engines and a Flash designed web site is almost like search engine repellent. Also, our eyes are not trained to take in valuable information on such a design. You may get the wow factor, but as humans, we need text and the boring stuff to be able to understand what's going on and have it sink in. You must think like a visitor to your web site when coming up with your design and layout. Keep it simple. When a new visitor comes to your site, you have maybe 1 or 2 seconds to grab their attention enough for them to stay and see what you're all about. Humans are lazy and we don't want to have to click around or search to find what we're looking for. You want to grab their attention immediately, but without being annoying or obtrusive.
Web Presence: Be everywhere & active. One of the downsides to today's Internet is that fans/surfers expect updates and if you don't update regularly you're really risking losing your fans and followers. Do your best to keep everything updated. This means, your blog, all your profiles, twitter feed, etc. There are tools and services to help you update these profiles & sites all from one place, making it much easier.
Make it Easy: A big mistake I see a lot when coming to a band's web site is that I have to look for the information I'm seeking; usually the music. This kind of goes back to your Design/Layout, but it's important enough that it stands out on it's own. Keep the scrolling and the clicks to your music/content to an absolute minimal. If there too many steps, there's a very good chance your visitors will give up before getting to their destination. Plus, rarely do people want to be taken to another site. If you're operating your own e-commerce store, again, be sure to try to keep them on your site with as few steps as possible.
In your experience, what's the absolute easiest or best way to market a band/label/artist?
There's no real easy way to do it. Believe me, I wish there was secret to it that we all just haven't found yet, but that's just not the case, unfortunately. However, I can say the Internet is absolutely wonderful for promoting your music and/or band. I've spent the past 9 years or so marketing both physical and digital goods online; trying different approaches; and I have found that these techniques are keys to marketing success online:

- Exchange traffic/visitors: I can not stress this enough. Exchange links with similar sounding musicians. These links should be placed in a visible spot on your site and not buried on some 'links' page. Not only will this help you increase your search engine rankings, it will also help create a steady flow of targeted visitors to your site. This is the best way to attract interested music fans to your site. It says, "If you do not like what I have to offer, try these other guys". If the "other guys" are doing the same thing, you will also get some of their visitors and maybe new fans.
Link to Everything: Anytime your music is reviewed or you're mentioned on another site, good or bad, link to it to show your fans who else is talking about you. Again, this will also help generate new music fans to your site. This where social bookmarking comes in handy.
Lead the Way: Tell your fans and visitors where to get your music or merch. Even it's obvious, tell them where and (if necessary) how to purchase. A banner or embeddable widget usually isn't enough. Show them the way. Also, remind your fans that you have music available. You would be surprised how many people need reminding. Just be sure not to go crazy and get labeled as a spammer.
Update and Build: Like I mentioned above, try to keep your social/online profiles updated on a regular basis. I've found it easiest to set certain days aside for certain online duties. Also, keep building your presence in every corner you can find of the Web. This can mean fan sites, lyric sites, merch sites, other social networks, whatever – just as long as it's part of your overall goal to dominate your niche. Then, link all those sites together and continue. The more ways there are to find you, the better. These are called "feeder sites", where they feed targeted visitors/ fans to your main site/store.
Be Completely Honest: One of the most important qualities to succeed online is trust. Especially when it comes to purchasing anything. You may be the most honest person in the world, but to a typical surfer there's a chance you're trying to scam them. So just be honest and make your fans feel comfortable about pulling out their credit card. Word spreads very quickly online, you don't want to suffer any irreversible damage by being known as "shady".
Do you have a formula for releasing music?
We really have no formula, per se, since we have put the control into the artist. However we have devised Plugola so artists can release one or two songs for free to attract fans to their store where their full album is available for purchase/download.
What are some pitfalls that our listeners should be on the lookout for, and how can they be avoided?
Don't get caught up in the hype. All this nonsense about how the sky is falling for the music industry is simply just that — nonsense and hype. Although the industry is changing significantly, as long as people still like music, it isn't going anywhere. Just try and be logical when taking in all this new information you may be reading from music biz/tech blogs. Some out there have an agenda and no business dictating how musicians should be conducting themselves….
Tweet This Post, Please!