My Products And Services
Hi, Thank you for visiting this page. What you are going to find here are the different products and services that I offer to help you with your music career.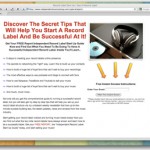 Click here to sign up for some free tips on setting up your record label. You also get a free guide (downloadable pdf) called Record Label Startup Guide – where I tell you what you should be doing when running your record label business.
Click here to purchase my book called Start A Record Label – The Ultimate Assist For The 'New Era' Indie Label. This breaks down the same step-by-step plan I used to start a record label. From signing up to the relevant music associations to choosing your team.
Tweet This Post, Please!